Tyler Johnson
VP ILE Support Group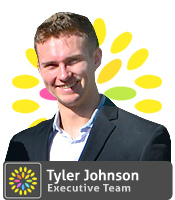 As the VP ILE Support Group, Tyler is focused on developing and driving an end-to-end ILE experience strategy. The Lumaxa ILE Support Group plays a critical role in demonstrating Lumaxa's commitment to delivering innovative solutions to solve ILE needs. With Tyler's leadership and collaboration expertise along with his extensive communication skills, verbal and written he is able to facilitate and provide our ILE significant indirect interaction with the company's senior leadership. The position reports directly to the President and provides significant contribution to the direction of the Lumaxa organization. Tyler is a significant asset to Lumaxa's executive leadership team.
Prior to joining Lumaxa Tyler managed a team of customer service representatives for web based marketing start-up within biotech industry. In this role Tyler supported the company's direct sales staff in daily operations and product distribution while assisting in the development of companies proprietary software and systems which provided support to the group. Tyler cross-trained and coordinated scheduling with team members to ensure seamless support services to the company's 400,000 distributors on a 24/7 basis. His demonstrated leadership and breadth of knowledge have proven prosperous as reflected in the significant growth, positive image reshaping and increased brand credibility in the companies he has served.
Tyler is a graduate of the University of Miami with a Bachelor of Arts Degree in Finance. Tyler is an avid reader, foodie, global traveler and when outside of the duties, is most likely to be found boating or four wheeling.